At the Nickelodeon's Kids' Choice Awards which has been held on Saturday night, famous actor cum pop diva Miley Cyrus conquers over both massively popular actors Emma Watson of Harry Potter and also Twilight starrer Kristen Stewart for the Favorite Movie Actress Award. She also wins over fellow nominee, Ashley Judd.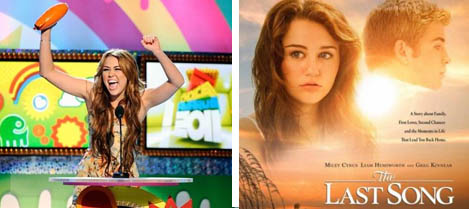 Ms. Cyrus became nominated for the character she played in the PG-rated move, The Last Song, where she acted with Liam Hemsworth. The movie was made during the same time as a Nicholas Sparks novel of the same name.
Majority of the fan votes determined the name of the winner for the award. We recently saw how Miley's name was frequently showing up on the headlines due to her personal behaviors which shocked millions of the readers. But after seeing her popularity among the masses that brought her the Kids' Choice Award as an actress, it is clear her personal life hasn't done much harm to her fame.
Emma Watson has been nominated for her character as Hermione Granger in the movie Harry Potter and the Deathly Hallows, Part 1; Kristen Stewart was also nominated for The Twilight Saga: Eclipse. Ashley Judd's role in Tooth Fairy also got huge acclamations from the young viewers.
In the Kids' Choice Awards another highlight that grabbed people's attention was the traditional green "sliming" of quite a few actors or other renowned people which includes the names like Heidi Klum, Jim Carrey, and host, Jack Black.